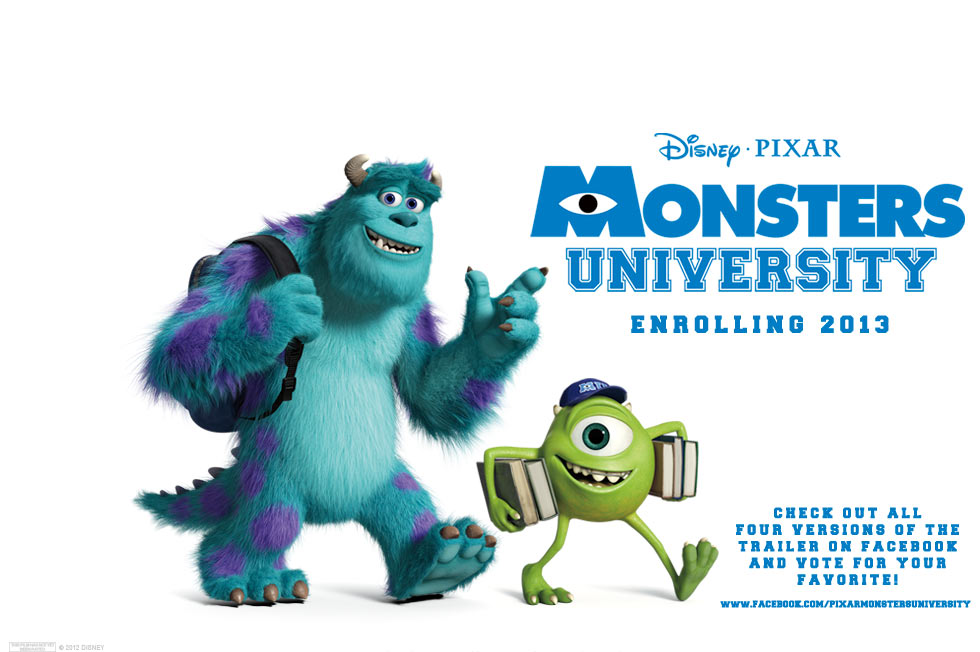 Plot
Mike Wazowski and James P. Sullivan weren't always the inseperable pair they are today. Back when the two first met, they couldn't stand each other. Monsters University tells the tale of how the two of them resolved their differences and became the best of friends. More details on the plot will be posted as they come.

Information
Monsters University is an upcoming feature length prequel to the 2001 film Monsters, Inc. Dan Scanlon is directing and Kori Rae is producing. John Goodman and Billy Crystal will return for the film. The film was originally slated for a release of November 16, 2012, before being brought forward to November 2, 2012. It is now set for release on June 21, 2013. This will mark the first prequel Pixar has ever produced.
Cast
John Goodman as James P. Sullivan
Billy Crystal as Mike Wazowski
Steve Buscemi as Randall Boggs
Peter Sohn as Unknown
Dave Foley as Unknown
Julia Sweeney as Unknown
Joel Murray as Don Carlson

Trailers
Teaser Trailer
http://www.youtube.com/watch?v=sED6FRXIHJc&feature=youtu.be
Oh man, I can't wait for this movie! I've been waiting for a new Monster's Inc. film for years! My childhood is slowly coming back to me.
Edited by Wreck-It Winston, 21 June 2012 - 01:29 AM.