Based on the Cartoon (duh), the game focuses on Finn and Jake tracking down the Ice King, who's making a princess out of their garbage. Adventure Time 3DS/DS will contain adventure/action gameplay and is developed by
WayForward
. The studio considered making it a puzzle-platformer or brawler, but thought that it wouldn't be true to the show's title.


WayForward designer Matt Bozon said the team "decided that something like Zelda 2: The Adventure of Link was the common ground". He added:
"Because of this our top-view areas focus on quests and exploration, and the side view combines combat with platforming."
Interview:
http://www.nintendoj...with-wayforward
ND: Was [a top-down game development approach] the case with the Adventure Time video game?

Voldi: That one was actually very collaborative with [Adventure Time creator] Pendleton Ward because he had been tweeting about game designs forever, you know, like, "Oh I want it to be Zelda meets, you know, whatever," so that one was very collaborative. And he actually has really good gameplay sensibilities too, you know, but he and Matt Bozon would just go on these sprees where they would just kind of work out what was happening. So yeah, that one's been pretty fun. I wouldn't say that one was as bottom-up. That one, he had come up with a story, like the garbage stealing thing, and he probably drew it on a napkin. I don't know actually. He's so funny because almost any email he sends there's a picture attached, like some little sketch of, you know, Finn doing a thumbs up or something.
In other words, instead of WayForward's typical work-for-hire games where they have a story, a setting, etc. and design a game around it, here they design the game first, then added the story. Plus, it's being worked closely with the Adventure Time creator himself. Mathematical!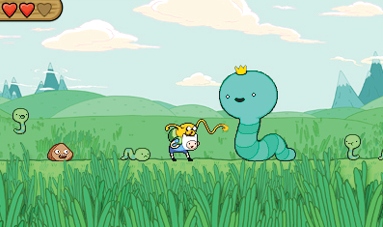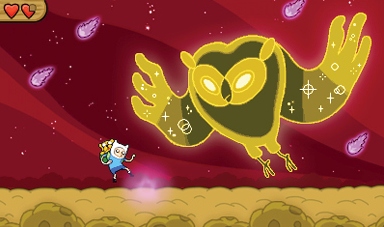 The DS/3DS versions are most likely going to be the same version, only with the 3DS one having 3D and better resolution.
Also dem Sprites! Dat Wayforward! As long as it isn't short like alot of other WayForward games, I'm going to love this!
Also there is going to be a collector's edition apparently, what it will contain, no one knows (yet)
Made a topic because the Chit-Chat seemed more suited to talking about the show, rather then the game.
Release Date is Fall 2012.
So go on and talk about the Zelda 2 of this generation!
Edited by Nintendoga, 08 October 2012 - 12:44 AM.