This topic should provide you with all you need to join in, chatting to other Sonic fans on IRC. It's basically a server with a load of chat rooms, if you don't know what IRC is. You could use a web-based java applet to connect to the chat, but those things are fucking shite, so I don't reccommend it.
First thing you need to connect to the channel (chat room) is an IRC client; this is a handy program, a bit like MSN, which allows you to connect to the IRC servers. I personally use
mIRC*
, but I hear
XChat
is very good as well. Once you download the client of your choice, install it if it needs installing and open it up. I'll give you picture examples for mIRC, but the same basic shit also applies to XChat.
When your client is open, click off the box with the slightly ugly nerdy guy and you'll be left with some empty shit. Note that my screenies use different colours to the usual mIRC defaults, because I'm awesome.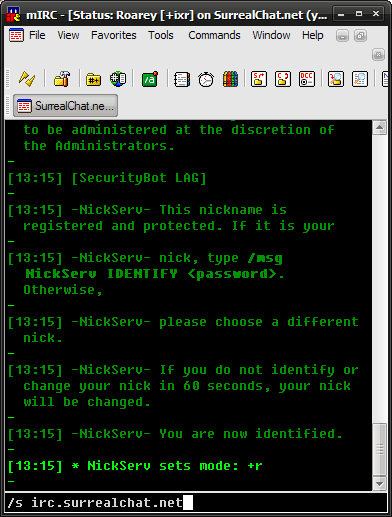 Type the above into the typing box area thingy and it will connect you to the server where the #sonicstadium channel lives.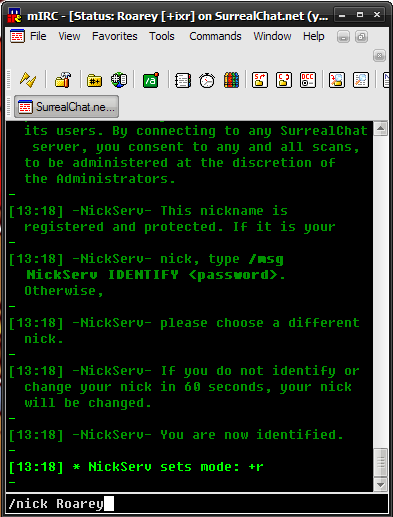 Decide what nickname you want and change it using the above text.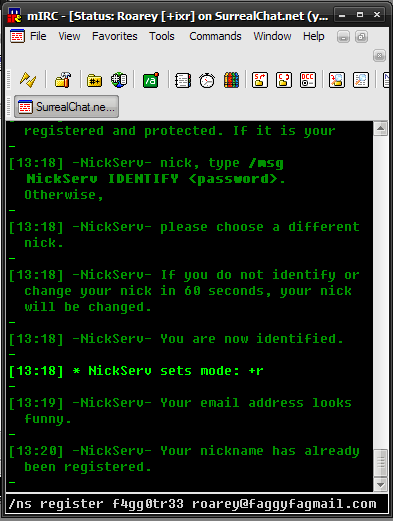 Now you register your nickname, so other people can't rob it. Type the above but put in your own password in place of 'f4gg0tr33' and your own email address in place of the email I have written there. Then you'll get some validation email shit which is easy to follow so I shouldn't have to illustrate it for you, but it's like copy some code it gives you into the text box and press the enter key so like, it's fuckin' rocket science n' shit.
Anyway, you're now ready to join us in the channel, so to connect to the TSS IRC channel all you have to do is type:
/j #sonicstadium
Holy shit!? Yeah, but remember you have to be on the server first; that thing you joined at the beginning. Also, you will need to identify yourself whenever you join the server, to confirm it's you who is using your nickname. To Identify, use the following command:

/identify password
Obviously, use your own password in place of the word 'password', you idiot.
That should be all you need to know, but if you have any more questions, ask them in this topic. Take note that Google, being a relatively good search engine, can provide you with links to IRC wikis and info sites that can answer questions you have as well.
* Despite the fact that mIRC tells you your trial will be running out in X days, when it does run out it will still let you use the program completely, so you still never have to pay for it. Then again, it's really cheap, so you can be honest too with little expense.
EDIT:
Oh yeah, one more thing; if you can't be arsed typing in these longish commands every time, you can make them shorter using the script editor. Go to Tools > Scripts Editor > Aliases tab and you should get something like this: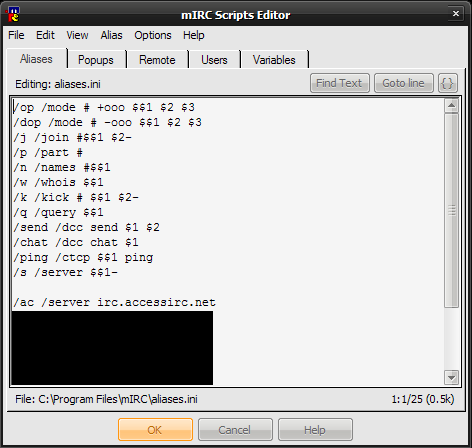 You can then type the command you want to use followed by the command you want it to replace, so if you want to shorten
/s irc.surrealchat.net
to
/sur
, then type it in the box above in the same format. You can also make certain commands automatic whenever you join a server by going to Tools > Options > Connect Options > Perform and then entering the commands in the box that you want the client to do automatically for you. Identifying is a good one.