UPDATE!
It seems that the game will not have a cut-off date of Adventure 2 like previously believed. In the new previews, it says there are three eras, which are the classic 2D games, the Dreamcast 3D days, and the modern era. Stages will have an Unleashed/Colors verson and a 2D classic-style version.
While we all wait for a sub-forum to be created for this game, I wanted to create a topic of focus on this one specific part of the upcoming Sonic title. Sonic Generations was rumored several months ago to be redefining old locales from the Sonic franchise that existed between Sonic 1 through Sonic Adventure 2. Another recent rumor from a pretty reliable source says the game will feature locations from major titles in the franchise. On the Sonic facebook page (the one that revealed this game) about two years ago, they held a poll for which stages people would like to see. It could have nothing or everything to do with this game, and I tallied the results which you can see here:
-Green Hill Zone (had the most overall votes, and the most obvious choice)
-Starlight Zone (this one had the second most votes for Sonic 1 and quite a few)
-Chemical Plant Zone (had some of the most votes for Sonic 2)
-Casino Night Zone (had some of the most votes for Sonic 2)
-Hydrocity Zone (had some of the most votes for Sonic 3)
-Ice Cap Zone (had some of the most votes for Sonic 3)
-Flying Battery Zone (had some of the most votes for Sonic & Knuckles)
-Lava Reef Zone (had some of the most votes for Sonic & Knuckles)
-Doomsday Zone (also got a ton of votes)
-Stardust Speedway Zone (got a good size amount of votes and most from Sonic CD)
-Emerald Coast (had some of the most votes from Sonic Adventure)
-Speed Highway (had some of the most votes from Sonic Adventure)
-City Escape (by far had the most votes from Sonic Adventure 2)

Stages Not quite as high but still pretty up there: Emerald Hill Zone, Mystic Cave Zone, Metropolis Zone, Carnival Night Zone, Hidden Palace Zone, Sky Sanctuary Zone, Red Mountain, White Jungle, Pyramid Cave.

Ones not quite a lot but more than the rest: Labyrinth Zone, Aquatic Ruins Zone, Oil Ocean Zone, Angel Island Zone, Death Egg Zone, Lost World, Green Forest, Final Rush

Also interestingly enough they apparently never published the poll results and took the poll down once it was ended (but left up the comments to the poll, which is what this is based off of. Poll results could of been different by a bit)

The game, if what was previously said is true, is said to feature old locales brought to the present in Unleashed/Colors type of gameplay. So then the big question comes, what do you want to see return to this title? If the game is composed of past Sonic locations, where would you like to return to and what landmarks would you want to make a come-back? Any particular reason? SEGA did a lot of research to get Classic Sonic down, so how about the locales?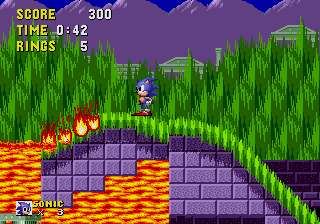 Confirmed: Green Hill Zone
Desire for: Combo with Marble Zone
I have my own crackpot set of stages I really want to see return. The one we have confirmed for us is good ole' Green Hill Zone. I will admit, in my mind I have played around with the idea of beautiful waterfall scenery in Green Hill and sections reminiscent in 2D gameplay of the original Green Hill layout... Whatever the case, one thing I would be interested in seeing is maybe if they also combined some of Marble Zone into Green Hill as both has similar environments and were one after the other. To combine them for one stage might be a good move to add variety and more nostalgia into a stage based on Green Hill. However, also maybe not so likely... Anyways, the other stages I would like to see return!

Lava Reef Zone
This is a personal favorite stage of mine, with fantastic music, interesting layout, and had an interesting story position in Sonic & Knuckles. I would love to see it rendered in current technology and remade, it could be an interesting and haunting place with glimmering crystals, flowing magma, and run-down machinery and would be a location I would love to race through again, and maybe take the time to explore as well it's mysterious caverns.

Capital/Central City
The series of towns that are evidently close to each other, featured in Sonic Adventure with Station Square, in Sonic Adventure 2 a nearby city you play through in the stages City Escape, Radical Highway, Mission Street, and the two Route stages. Central City it is in Sonic Battle, Shadow the Hedgehog, and Chronicles. As Sonic Adventure 2 as a basis, the cityscape might be an interesting stage as it contrasts with the other tropes you might find and has a lot of room as it is explored several times around this centered location. They are making a remix for escape from the city... Could that be used here? Unleashed was full of cities, but having one in this game from past titles could prove interesting.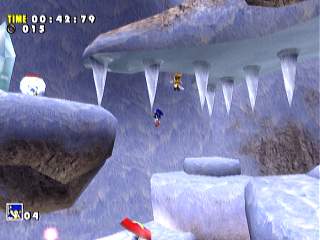 Ice Cap
Seen in Sonic 3 and Sonic Adventure, Ice Cap is a favorite of many and even one of the rare few stages that has appeared more than once and has some importance. Ice Cap hosts some awesome potential and just as awesome music. While Unleashed had an ice stage, the styles of Ice Cap are quite different to Holaska and it would be a thrill if centered with some of the slopes of Adventure and platforming found in these stages. Freezers, crushers, Icicles, and all!

Death Egg
You know you want it.
There is more I want but some I doubt will appear, from Lost World to Oil Ocean to White Jungle and Pyramid Cave to Mystic Cave... But what do you guys want to see as well? What stages would you like to see in this generational title? And I just found out generational is a real world. So guys, what is it? o3o Also combine if we can't make other topics but I do want to discuss his about this upcoming title, though no subforum yet.
Edited by Dusk Golem, 18 April 2011 - 04:58 PM.